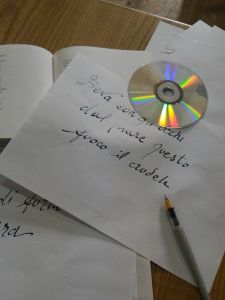 Today, two labs are underway with artists to prepare for the BNL Media Art Festival.
From 2:30 to 4:30 pm, Dehors e Audela will return to the IIS Cattaneo School in Rome for Project "Performing/Perforating the Daily," a workshop on scenic presence. Students and artists will design and develop a live performance together.
From 3 to 5 pm, Paolo Gatti and Francesco Bianco will be at the IIS Sandro Pertini School in Genzano (Rome) to develop another live performance, an interactive sound installation.