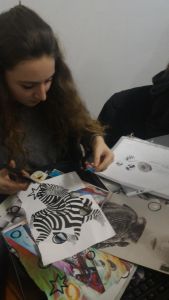 We continue to follow, week by week, what artists and students are developing for the BNL Media Art Festival. Twelve artists are working with students in 12 schools in Naples, Rome and Milan. The aim is to help students develop a new understanding of art and technology, strategic competitive skills and new professional profiles.
Yesterday, we were at the Rome Liceo Terenzio Mamiani with artists Eva Tennina and Ryan.
The 21 students who are working together with the artists on a shared work in stop motion come from two different classes.
The final video will mould the two shorter videos produced by the students in the two classes. The students' work will "flow like snips of reality in movement," explain the artists.
Stop Motion, in fact, is based on time-lapse photography of images in movement that are then edited with specific programmes.
Each student will develop a video based on his or her passions, fashion, famous magazines, drawing and any other tool that helps to express a concept of digital art.
Here are some short interviews by Eleonora Curatola with lab participants.