"Art Pitches" took place on day one of the BNL Media Art Festival. The event was introduced and moderated by Mirta Michilli, Director General, Fondazione Mondo Digitale. Five digital artists presented their projects to clients and entrepreneurs with the elevator pitch formula, basically a short description that will take no longer than an elevator ride to explain.
Experts included
Stefano Celi, Group Synergy Coordinator, BNL Group BNP Paribas, Italy
Andrea Limone, CEO, PerMicro, Italy
Here is the video of the event and a short presentation of the five proejcts.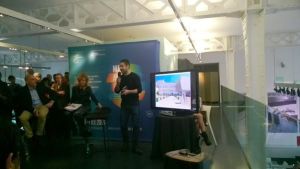 Felipe Aguila
This is a further development of a previous work entitled "El trono," conceived to create an artistic-literary container in which people can share their stories and photographs. "We invited amateur and professional writers to describe their own or someone else's lives in just a few lines; in fact, any story, from anywhere, even invented. Then, we invited visual artists to provide photographs, illustrations, etc."
The previous project was developed with the use of 3D printers: from de-materialisation to materialisation of objects. In a society, that is increasingly comfortable with non-material objects, the use of technology also allows us to re-materialise objects and provide a physical contact with society. 3D printers allow us to share and conserve objects.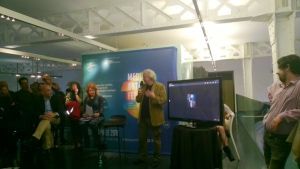 Filippo Panseca
Photo-catalytic nano-technology for art and society. Photo-catalytic solutions activate by UV light through pollution sensors allows us to reduce pollution by generating anti-bacterial processes that limit odours and mould. These processes provide new aesthetical and artistic solutions that are fundamental for society by creating environments that purify the places in which we live.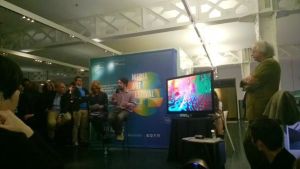 Lino Strangis
This is an interactive multimedia application that includes a 3D virtual environment with animated dancers performing choreographies, in loop, through motion capture.
The sound track (electronic/experimental/post-ambient) is fundamental. It captures the atmosphere and creates empathy with the movements of the actor/objects. The application is studied to work with Oculus Rift, which allows participants to immerse themselves completely in the work and navigate in the virtual environment. The object is to create new content for virtual platforms.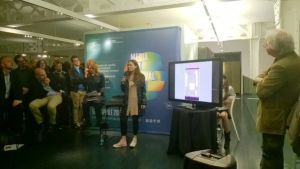 Chiara Passa
A series of unique video sculptures at the Widget Art Gallery. The WAG is a virtual multi-platform web app virtual gallery for exhibiting digital and time-based art. Every two months, the WAG showcases a new exhibition. This led to the idea of producing unique video sculptures containing not only digital art, but even the very three-dimensional structure, the framework of the WAG. In fact, the WAG is itself part of the work and an extension of the digital work that it contains. This means that not only the exhibition, but also the entire showcase changes every time to fit the artist's ideas. WAG showcases digital artwork of various formats and types, although most of the exhibits are animated GIFs, which thanks to their extreme variation are brilliantly adaptable to such a multifunctional space.
The Widget Art Gallery has welcomed national and international artists, including Daniele Puppi, Tomaso Binga, Lorna Mills, Yoshi Sodeoka, François Gamma, Jon Cates, Bill Miller and many others.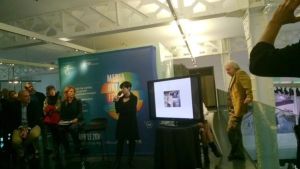 Maria Grazia Pontormo
This is an artistic documentary to raise awareness on Arabic culture. It's an artistic project that can be showcased in non-traditional artistic locations to better explain cultural differences.