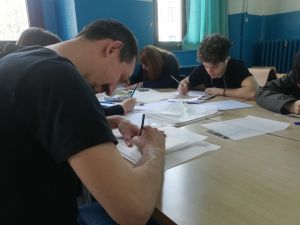 IIS Santa Caterina Da Siena, Milano
Imagine a post-apocalyptic world with only a few technology-less survivors. They have lost all technical and scientific knowledge … Imagine a new society that must begin again and evolve on the basis of a series of decisions.
This is the idea developed by Jacopo Nocentini with 26 students following Class 3B – "Commercial Promotion and Advertising" Curricula – at the Istituto Santa Caterina da Siena in Milan, directed by Antonella Maria Benedetta Cutro. Activities will be coordinated by Professor Simone Massafra.
Starting with an analysis of our society, the course ends with the creation of a artefact, an artist's book, a guide to a new society: the "Galactic Guide for Artists" will be showcased at the Rome Maxxi during the Media Art Festival 2018 (May 17-19, 2018).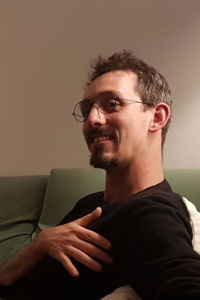 Jacopo Nocentini
Born in Reggello (Florence) on March 15, 1990, after a degree in photography from the Laba in Florence, Jacopo Nocentini attended a Master's programme in Photography at the Venice IUAV. After his studies and an internship at "BASE Projects for Contemporary Art" in Florence, Jacopo moved to Milan, where he worked as an assistant to Francesco Jodice.
Jacopo currently lives in Milan, where he pursues research on contemporary society, the condition of the Anthropocene, and the effecs and consequences of humanity on the environment.
Collective Exhibitions
2015
TU35 – Geografie dell'arte emergente in Toscana (PO)
2016
TU35 – Geografie dell'arte emergente in Toscana (PO)
Terracomunica (Gubbio, PG)
F4 / un'idea di Fotografia (Pieve di Soligo, TV)
Manufatto In Situ 10 (PG)