The Media Art Festival 2017 ended with the Awards Ceremony at the Maxxi. The MAF is an initiative by the Fondazione Mondo Digitale with the patronage of MiBACT and the City of Rome Council for Cultural Development and in collaboration with MIUR, Lazio Innova, Europa Creativa (European Commission), American Embassy in Italy, Israeli Embassy, MAXXI – National 21st Century Art Museum, Sapienza University of Rome, Goethe – Institute Rome, Accademia di Belle Arti di Roma, RUFA – Rome University of Fine Arts, and Quasar Design University. Technical sponsor: Epson. Media partner: Inside Art.
Here are the winners:
Best Work – Schools Category went to "La sua lingua, la nostra lingua" (Their Language, Our Language), an interactive sound installation developed by Artist Francesco Bianco with students from ITTSET Emanuela Loi in Nettuno.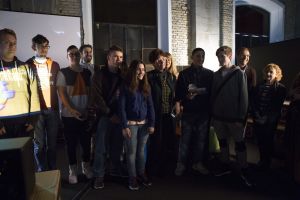 In the International Category, the Best Work Award went to "Elektromistel" by the RAUMZEITPIRATEN Collective for the interactive luminous environment designed to transform urban areas and provide a new approach to cities. Various groups of visual and sound sculptures, formed by sensitive lights, react to surrounding sounds from the trees and plants on which they are mounted, projecting animated lights and shadows on nearby architecture. Inspired by the European mistletoe, a parasitic plant, the project plays on parasitic and symbiotic strategies. (2017, Project Enlight).
The Hackreativity Creativity Marathon was won by "Seangolare App," a project developed by Team "ApStart By" from the Liceo Lazzaro Spallanzani in Tivoli with Cinzia Dell'Omo's By the Sea, a lab for the design, production, mending and sales of custom-tailored wet suits for water sports. The "Seangolare App" makes it simple to purchase these products on-line. [see news: Hackreativity Winners].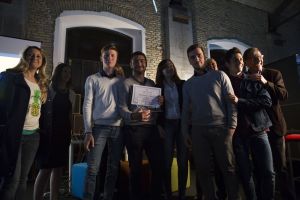 The Awards Ceremony video, shared live on the Fondazione Mondo Digitale Facebook page.